ver since I was a young boy my favourite holiday has been Hallowe'en. Every year we would gather before the pale glow of the TV, and watch the Disney Hallowe'en special. Of all the cartoons they showed, the one that caught me most in its fiendish grip was The Legend of Sleepy Hollow. When the the Headless Horseman appeared on the road behind poor Ichabod the chill through my body validated for me everything that was, and always will be, All Hallow's Eve.

Tim Burton, the genius who brought us The Nightmare Before Christmas, has made a live-action movie based on Washington Irving's timeless tale of terror. This web site is an attempt to sate my hunger while I await its release. Of the few sites I have found about the film, RACHEL'S site is the best for news about the movie. I do not wish to be redundant, so I will only post new information as I find it, especially as it pertains to the Canadian release. This site will instead endeavour to explore Irving himself and the original story.

I hope you will enjoy your visit to Sleepy Hollow. If you have any suggestions, or questions, please email me at: deimodius@idirect.com

This web site is a FAN site, this web site is NOT affiliated with Disney, Paramount, or Mandalay Pictures, or with Wizards of the Coast. Images on this site are property of their respective companies.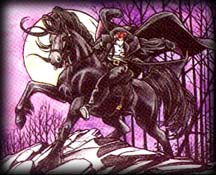 From the Magic:TG card "Headless Horseman".
Artwork by Quinton Hoover. Magic:TG
is a registered trademark of Wizards of the Coast.